Theater Geek: The Real Life Drama of a Summer at Stagedoor Manor, the Famous Performing Arts Camp
By Mickey Rapkin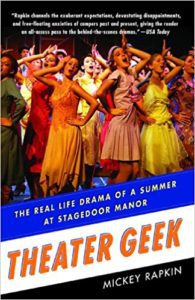 In the spring of my eighth grade year, my mother found a summer activity that became a pivotal part of my adolescence. The Stage Door Workshop in Allentown, Pennsylvania was a six-week summer program that combined theatre classes with the mounting of a full-scale musical production. Four evenings a week, kids from 12 to 17 spent three hours acting, singing, dancing, and bonding in the way theatre people do. Playing a 20-person game of "This is a Watch" successfully was a source of great excitement.  It was the first time I felt like I truly belonged with a group of my peers. Mickey Rapkin's Theater Geek made me nostaglic for the summers I spent at theater "camp."    
Theater Geek is a great beach read. The book combines a history of the camp with a present-day account of three recently-graduated seniors in their last session at Stagedoor Manor,  a sleepaway camp in the Catskills. The history touches on many of Stagedoor's famous alumni: actors Jon Cryer, Natalie Portman, Lea Michele, Robert Downey, Jr., and Zach Braff; playwrights Nicky Silver, Charles Busch, and Jonathan Marc Sherman. Casting directors regularly attend camp performances looking for kids to put on the Disney Channel or Broadway. Rapkin references several trial productions of "high school versions" of musicals: High School Musical, Sweeney Todd, and Rent.*
Rapkin captures the experiences of his three protagonists well, and manages to convey that "I'm-with-my-people-for-the-first-time" feeling familiar to most theatre kids. The challenges set forth for Rachael Singer, Brian Muller, and Harry Katzman, as the leads in Sondheim's Sweeney Todd, Into the Woods, and A Funny Thing Happened on the Way to the Forum, respectively, give each a character arc and provide some suspense. The drama of whether each actor/production was going to be successful made me wonder if Rapkin had already secured movie rights (his first book, Pitch Perfect, became a movie). Rachael Singer's arc, in particular, seems to have sprung straight from Glee fan fiction:
the camp's production director comments, "she thinks she's Fanny Brice";

as Rachael struggles with playing Mrs. Lovett, the spectre of another camper's spectacular performance in the same role two summers before lurks in the wings;

that other Mrs. Lovett is her friend and roommate;

Rachael falls ill and loses her voice the day before the performance, and might be replaced – by guess who?
There are few secondary characters among the campers, and Rapkin limits the current teachers and directors to commentary about the protagonists and past famous faces.    
Stagedoor's curriculum emphasizes that campers learn best through doing: in 19 days, they produce 13 shows.  Auditions happen on the first day, casting on the third. Product is the process, although there's only one performance of each show. While the staff work professionally in the theatre, Rapkin makes no mention of their training in education. The camp's website, strangely, has no staff list that I could find.  The camper/staff ratio is 3 to 1, and the productions have casts that average "26 campers or less" (This average doesn't tell a parent what she would really want to know – is my kid going to get stuck in a 40-person chorus? – there are no upper or lower limits listed)   
Despite my enjoyment of Theater Geek's storyline, I found myself wanting to know more: about the production selection, the audition process, the classes, the schedule. How does a 10-year-old student fare in competition with high school seniors?  How does that same tween deal with the very adult content of the productions? Are there kids who keep returning even if they are perpetually in the Chorus? In the Epilogue, Rapkin quotes an alumnus who references "emotionally damaged" former campers – but doesn't produce any examples.
There were a few other "teacherly" concerns I had while reading the book that Rapkin didn't fully address. Tuition for the camp is $5,000 – for one three-week session. There's little mention of common teenage troubles, aside from smartphone dependency; alcohol, drugs, and sex are mostly absent from the narrative. Anecdotes from people associated with the camp's early days, when it was named Beginner's Showcase, reveal that there were a lot of all three occurring in the 70s and 80s.
Theater Geek is a quick and easy read, and although a theatre teacher is unlikely to garner any new pedagogy from the book, it is a fairly accurate window into the feelings her students have about theatre.  
*The first production of the high school license version of Rent in an actual high school was at Truman High School in Levittown, Pennsylvania; it takes up a chapter in Drama High, Michael Sokolove's portrait of Lou Volpe and the renowned theatre program he built in a working-class community.
Details
TITLE: Theater Geek: The Real Life Drama of a Summer at Stagedoor Manor, the Famous Performing Arts Camp
AUTHOR: Mickey Rapkin
PUBLISHER: Free Press
COPYRIGHT: 2010 (2011 Reprint shown here)
ISBN-10: 1439145776
ISBN-13: 978-1439145777
LIBRARY OF CONGRESS CC#: PN 2078.N43.R38 2010
DEWEY DECIMAL CALL NUMBER: 792.02'8071174735