INTRODUCTION
The Perfect Stage Crew: The Complete Technical Guide for High School, College, and Community Theater is an easy-to-read guide by John Kaluta to supervising the sets, lights, sound, and props for a high school theatre department. Kaluta covers supervising the students on stage crew, or the "techies," as they are often known, as well. If you have to handle any aspects of tech for your theatre department, or supervise those who are, you will find The Perfect Stage Crew a useful addition to your library.
If you haven't had very much experience or training in technical theatre, The Perfect Stage Crew is a great book to get you started. John Kaluta uses a conversational tone throughout, and while he presents A LOT of directives, he often delivers them with the caveat that the reader will figure out whether this "the best" way for her eventually.
I want to mention here that this is a review of the Second Edition of The Perfect Stage Crew; the original publication date was 2004. I'm not sure there are enough changes between the two editions to warrant its inclusion in my Very Recent Reads in Theatre Education study, but it was such an enjoyable read!
In the Preface, Kaluta starts with a clear explanation of the book's organization and style; he's arranged the chapters, which he calls "Cues," into a rough chronology for a production. That is, he begins with the items that should be addressed first and ends with the ones that happen closer to opening night.
As the book progresses, Kaluta often breaks in with asides about how to maintain these aspects of technical theatre when there isn't a production in process, or suggestions for what equipment a tech director should invest in when there's funds available. In Chapter 15, there's an section (page 227) on what to do "Between Shows."
Here, Kaluta also reveals some of his philosophical stances on running a crew, like: "You must never (never) admit to anyone that you'd ever possibly settle for less than perfection." (viii). He has a charming explanation of the mathematical formula he's used to figure out that he needs to ask for 150% of what he thinks can be done.
Amusingly, the first topic in "Stocking Up" (pages 12-13) is TAPE! Like most techies, Kaluta has a thorough knowledge of the versatility and varieties of tape. He details the intricacies of tape types for several paragraphs before mentioning that a theatre also needs staples, blank cassette tapes and CDs, and batteries. He omits my favorite stock-up item, though – safety pins – but I think that's because he doesn't handle as many soft goods as I do.
PLANNING, DRAFTING & SCENIC PAINTING (CUES 2 and 3)
Kaluta covers both floor plans and elevations in the "Get Set" chapter. He helps a beginner get started on gridding out the stage, creating scale drawings, and sketching. There are detailed instructions for one-point and two-point perspective, and some tips on three-point as well. There's also a primer on flat construction and tips on taking advantage of the subtle art of reusing and borrowing set pieces in this chapter.
A teacher-director could follow Kaluta's Scenic Painting Workshop step-by-step and have a actual workshop session for an entire drama club. (They would have enough wood-grain cabinet doors to last several years, but they can always get painted over!) The list of "things that can be used as paintbrushes" is something you'll want to post in the paint area.
BUILDING (CUE 4)
In "Build the Thing Already," Kaluta starts with "Your major set pieces are either going to stand still or roll" and proceeds to cover the basics of hardware, tools, and set pieces. I found it a little odd that he recommends picking up a PERIOD HAND PUMP – the kind Laura Ingalls used on Little House on the Prairie – but he must get a lot of use out of it.
Kaluta has a detailed section on building stairs for sets – both regular staircases and curving ones – that takes up almost 17 pages. He even includes a day-by-day schedule and an appendix with a cheat sheet of riser heights! It's worth bookmarking this section so you can access it when needed or provide it for someone else. In undergrad, I had a simultaneous epiphany with several other students that we should have paid more attention in Trigonometry when we set out to build a stringer and had only vague ideas of how to calculate the rise and the run. While I'd need a lot more instruction before I'd attempt building a staircase, someone with a little more building experience could easily follow his plan.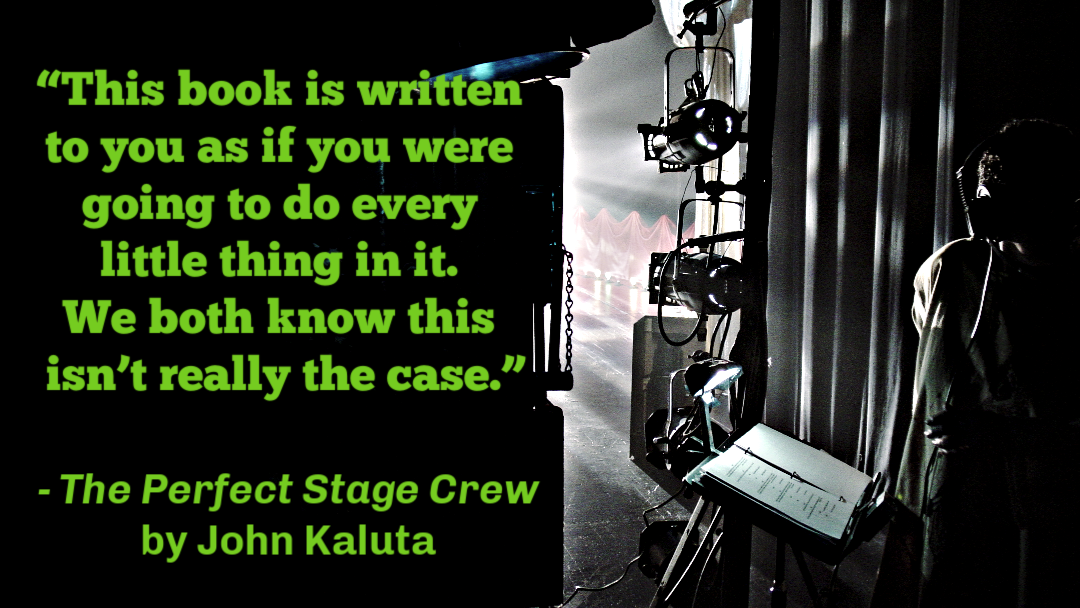 LIGHTING AND SOUND (CUES 5, 6, & 10)
Lighting and sound seem to be Kaluta's comfort zone; he provides more information than a beginner needs in both areas. That's a good thing, since it means a beginner can come back to the book for the more complicated stuff once she's got the basics mastered. I certainly learned a lot more than I already knew about lighting and sound.
In the "Fix the Lighting/Sound" chapters (Cues 5 and 6) Kaluta explains how to identify, check functionality, and fix the equipment. He covers basic science and theory for lighting and sound, and touches on some more advanced concepts. Kaluta advises the reader to hold off worrying about side light and color temperature until later. He gives clear advice on how to simplify things. For example, he provides a step-by-step method – from "nothing" – for a sound setup. In the "Fix the Sound" chapter, Kaluta also gives specific instructions in soldering, a useful and used-more-often-than-you'd-think skill.
Also, the chapter on "Patching the Lights" (Cue 10) has a low-stress method for lighting the stage that could save a production team a lot of headaches.
Kaluta mentions the ghost light, a theatre tradition that I have never seen used in a high school theatre, but as his experience was at Maryland high schools, I'm hopeful that it's a more common than I've experienced.
PUBLICITY & FRONT OF HOUSE (Cues 7 & 14)
There are some things that Kaluta has done as a high school technical director that aren't commonly in the TD's list of duties. Of course, multitasking is an absolute necessity in most departments and most teacher-directors take on multiple production team roles. But it's unusual for the technical director to help organize the publicity for auditions, order scripts, or be responsible for posting the cast list. Kaluta wears this "extra hat" well, however, and he provides plenty of useful and clever ideas for advertising a production.
The "Curtain Up!" chapter explains ticketing and ushering methods that are fool-proof, even if you don't have access to an online ticketing program.
MANAGING PEOPLE
In the "Rehearsals, and Life" chapter, and throughout The Perfect Stage Crew, Kaluta gives solid advice on interpersonal relations. Sometimes theatre people can get overly…passionate about their work, and they sometimes annoy each other.
Some of his important points include:
Admit it when you're wrong
Be inclusive
Have communal meals with the crew
Let the director be the "big boss"
Be kind to the pit musicians
Don't be a busybody
As far as the clique-y "actors vs. techies" divide, I'm pretty sure that Stage Crew is a separate entity from the Drama Club/Thespians in Kaluta's school, with its own student board. Kaluta advises having the actors sweep and mop the stage and participate in strike. I like to have actors working on technical aspects of the show when they can. If there's a rehearsal-free "build day" or "painting day" during a production period, the cast should join the crew and contribute however they can. Maybe putting in a few hours in tech or production work could be a requirement for getting the glory of being onstage performing? This is especially important for students looking to major or minor in theatre; many universities have work-study opportunities or crew hours required of students. Plus, freshmen don't often get cast in college shows; working backstage is a way to get "known" in the department.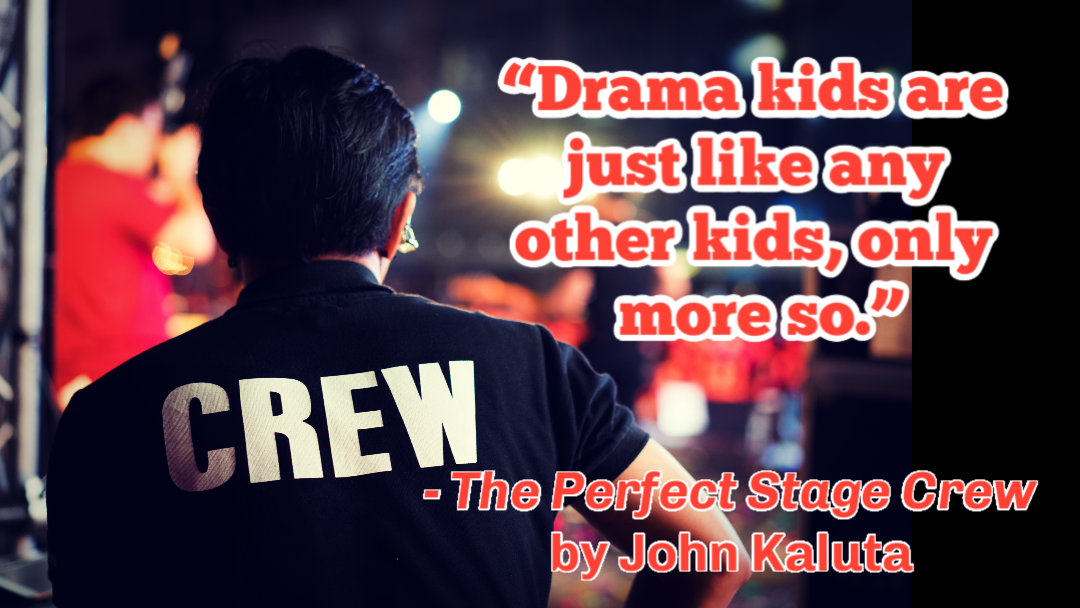 SAFETY
The coverage of safety and first aid in The Perfect Stage Crew has essential tips for teacher-directors. They are distributed throughout the book, as the safety measures for wiring work are distinct from power tool use (aside from "SAFETY FIRST"). Kaluta emphasizes that the teacher-directors' competence is paramount in safety concerns; if you don't know how to operate a tool skillfully or fix something safely, there's NO WAY you should supervise students doing so. In some schools, there are rules governing students' work in tech theatre; sometimes light bulbs can only be replaced by the union Facilities staff, or there has to be a certified Technology Education teacher present for students to operate power tools.
As always, you should make sure you read any relevant publications from your administration and check on "past practices" or unspoken rules that may apply to your students.
Kaluta includes plenty of anecdotes throughout The Perfect Stage Crew, sometimes digressing significantly from the subject at hand. For example, a safety discussion gets interrupted by "the time we made a guillotine for Tale of Two Cities" for a while. Of course, a guillotine is a set piece you need to make sure is absolutely safe; it's just not a commonly called-for one. I love reading about the theatre culture at different high schools, though, and anecdotes are a great way to immerse myself in one.   
WRAP-UP
Kaluta's experience in public high school theatre influences much of his perspective; he's very aware of the costs associated with "professional" solutions to theatre challenges and is ready to suggest more economical alternatives. For example, you don't have to buy "professional theatrical scenic paint" for your sets; regular interior paints can be purchased for less than half the price. His hack for replacing sharkstooth scrim could be a budget saver, and his tip for reusing broken tape measures is ingenious. (Not going to spoil these; buy the book!)
The most significant flaw in The Perfect Stage Crew is a lack of photographs and a scarcity of illustrations; Kaluta explains, "Saves you money on the price of the book."(page vii) Even though publishing costs increase with each additional image, sets and lighting are aspects of theatrical production that really benefit from color photographs. I wanted to see what his less-expensive alternatives looked like, particularly in comparison to the "professional" gear. Sometimes it was hard for me to visualize executing his instructions because I didn't know what the pieces of the project looked like; I had probably seen the things he was describing at some point, but without the graphic confirmation, I was unsure. However, the book is a bargain at $20; purchasing it for your department's shelves will absolutely save you hundreds of dollars.
Also, after publication of the first edition, John Kaluta produced a television program based on his book. So you can see many of the ideas in The Perfect Stage Crew in action. Kaluta asked several crew alumni to work on the tech for Partners by Paul Bogas. The crew works at the Fels Point Corner Theatre – an old firehouse- to build the set, paint the scenery, and hang the lights. The various crew members take turns explaining what they're doing and why. It's available on YouTube:
The Perfect Stage Crew TV Show
Costuming is not covered in The Perfect Stage Crew; other than advice about getting measurements and an Appendix with a measurement chart. Kaluta does recount making the very reasonable suggestion that kids bring robes in to cover their costumes when they're eating.
Kaluta includes a charming "Short List" that can get you through a production in TEN SHORT STEPS! As everyone who's worked on a show knows, practically NONE of the steps are "short," but it's amusing to see them boiled down to a few words each.
The Index is well-organized; you can flip to the "Safety" entry and find five general and 14 specific pages for the topic. In addition to those mentioned earlier, Appendices include a DMX and Lighting Plot Cheat Sheet.
BOOK DETAILS
TITLE: The Perfect Stage Crew: The Complete Technical Guide for High School, College, and Community Theater
AUTHOR: John Kaluta
PUBLISHER: Allworth Press
YEAR: 2016 (Second Edition)
PAGES: 260
ISBN: 978-1-62153-520-1