Jocelyn Bioh's School Girls, or; the African Mean Girls Play  is fun, funny, and fast-paced as it addresses societal problems. It even includes a LIVE rendition of the 80s classic "The Greatest Love of All!" 
THE BASICS
TITLE: School Girls; or, The African Mean Girls Play
AUTHOR: Jocelyn Bioh
LICENSING ENTITY: Dramatists Play Service
SUMMARY: When the queen bee at the Aburi Girls' School wants to become Miss Ghana, it looks like a sure thing…until a beautiful and poised new girl shows up.
CHARACTER BREAKDOWN: 8 Female; 6 high school age and 2 in their 40s; There is a note at the beginning of the character list that states: "All characters are of West African descent and are to be played by African and/or Black actors."
COSTUMES: School uniforms (see https://aburigirls.edu.gh/ for examples); 80s prom dresses
SETTING/SET REQUIREMENTS: The Aburi Girls School in Ghana – 1986 – the Cafeteria
PROPS: Ordinary objects.
STAGING CHALLENGES: Actors playing the students need to sing "The Greatest Love of All" a capella; there is an intense confrontation scene that has all 8 characters on stage at once.
BACKGROUND
School Girls, or; the African Mean Girls Play premiered at MCC Theater in 2017. It won the Lucille Lortel Award for Outstanding Play, and was such a hot ticket that it returned for a second run in October 2018.
Jocelyn Bioh shares in the "Playwright's Note" that she was inspired by the 2011 Miss Ghana competition, in which an American – who had previously competed in the Miss USA pageant as Miss Minnesota – won the title and the chance to represent Ghana in the Miss Universe pageant. (Read more about the controversy below.)
Bioh takes the situation and reimagines it happening at a girls' school in Ghana…in 1986. Her move to the late 20th Century takes away the "Internet Factor" and allows for plenty of humorously ironic dialogue.
SUMMARY
School Girls, or; the African Mean Girls Play by Jocelyn Bioh is a funny, biting commentary on beauty pageants, as seen through the eyes of young Ghanaian hopefuls. School Girls is essentially a comedy, but at the same time, it addresses the serious issues of colorism, classism, and bullying.
Like Philip Dawkins' The Burn, School Girls addresses the special sort of bullying high school girls can inflict on each other. Although they have different location and time period settings, there are plenty of other similarities between the pieces. Both proceed with breakneck speed (though The Burn is faster). Both look at the complicated relationship between teachers and students. Finally, both plays share a similar post-modern outlook.
School Girls, or; the African Mean Girls Play would make a great choice for a program with skilled comedic Black female performers.  
THE SCRIPT
PAULINA, the reigning queen bee at the Aburi Girls' school has a squad of minions: AMA, MERCY, NANA, and GIFTY. She holds herself and the rest of her group to high physical standards, and lords her advantages over the other girls. She has a professional soccer player boyfriend, a good singing voice, and the advantage of family who've emigrated to the United States. In typical mean girl fashion, she reminds her "friends" of their various faults in order to prop herself up: "I just think they appreciate that I protect them!"
As the play opens, all five girls are excited about the Miss Ghana pageant recruiter that's showing up to audition them. Of course, PAULINA expects to be chosen, win the Miss Ghana title, and challenge the status quo by winning the Miss Global World pageant. When NANA announces that having (pre-scandal!) Bobby Brown as an escort is one of the prizes, even HEADMISTRESS FRANCIS gets excited.
However, PAULINA's insistence on bragging about her American relatives soon reveals a dramatic irony. The "high class restaurant" her aunt works at is White Castle. The "trendy American boutiques" that she has clothes sent from are Conway and Walmart. Her friends are none the wiser because it's 1986 and they don't have access to information about American culture.
But, PAULINA's four subordinates are more independent than many hangers-on; all of the girls seem to realize they're involved in a cult of personality. They're willing to point out PAULINA's bad behavior when she's not around, and render subtextual judgement when she is. They just don't want PAULINA "coming after us," as MERCY puts it. AMA is the most critical of PAULINA; there are hints of a severely damaged their relationship in the last year.
When HEADMISTRESS FRANCIS introduces a new student, ERICKA, the classmates are shocked at her appearance; GIFTY asks, "So are you a white?". Although ERICKA's mother is white, she simply says, "I am a little pale. Clearly, I have been missing some of that good African sun." In addition, they learn that ERICKA's father is the owner of the local cocoa farm and chocolate factory, and she was raised in America. ERICKA is poised, well-spoken, pretty, and generous. When she offers to share her American beauty products with the girls, they are thrilled, but PAULINA is suspicious.
Immediately, PAULINA realizes that ERICKA is a threat to her ambitions for the Miss Ghana pageant. She strong-arms NANA into stealing ERICKA's file from the office. Later, PAULINA "runs into" ELOISE, the pageant recruiter (a former Miss Ghana who was an Aburi Girls' School student). She impresses ELOISE, but then has a run-in with ERICKA.
Overnight (and with the help of ERICKA), the girls begin to realize that PAULINA's been stretching the truth about her American relatives. ERICKA's real Calvin Klein dress – "From Macy's department store" – makes PAULINA's Chinatown knockoff look cheap. Once they learn that White Castle is not "a castle with food," but a fast food place akin to McDonald's, they start to become Team ERICKA.
The day of the auditions, PAULINA prepares by using bleaching cream. The girls sing "The Greatest Love of All" for ELOISE and ERICKA, despite no rehearsal, is amazing in the performance. When ERICKA attracts the attention of ELOISE, PAULINA uses the information she has on ERICKA as a weapon. What follows is explosive, tragic, and rife with sardonic humor.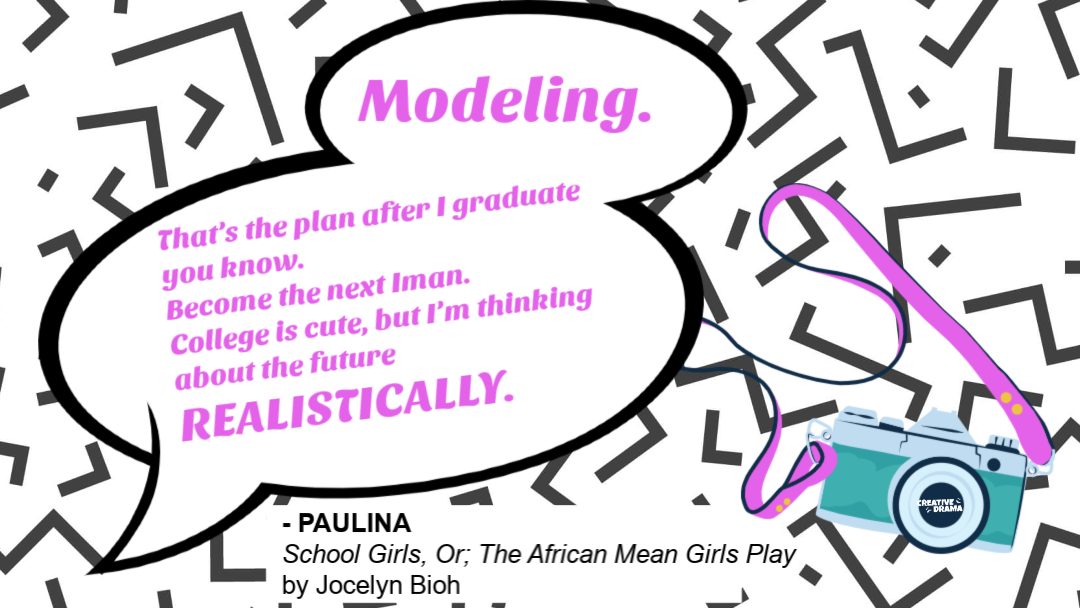 PAGE-TO-STAGE
A single set is always welcome in a production; Bioh uses the school cafeteria as a lunchroom, meeting room, secret planning place, and performance space, as might actually happen in a small boarding school.
The school uniforms will likely need to be sewn in order to look authentic; although the separate clothing items are typical "Western" apparel, many of the pictures I've seen of the Aburi Girls' School have incorporated Ghanaian prints into the uniforms.
The most difficult performance challenges for School Girls might be the Ghanaian accents, singing "The Greatest Love of All," and portraying the havoc that ensues onstage immediately after the song.
Also, ERICKA needs to be able to "channel Whitney Houston."
AMA, MERCY, NANA, and GIFTY each have enough backstory for students to build their characters. Bioh has a gift for revealing a lot of information in few words, and she uses it well with every character. Even the stage directions for each girl before she sings her part in "The Greatest Love of All" provide great character material.
CONSIDERATIONS
I have assembled a VERY SHORT list of "Considerations" to help teacher-directors decide if they'd like to get a hold of a perusal copy of a piece or purchase a script for their classroom/department library. These are aspects of School Girls that, in an ideal universe, wouldn't cause a problem for a teacher-director. I think that if this play appeals to your program and students, it should pass your approval processes. But based on my experience and knowledge of past challenges to educational theatre pieces, these are things that an administrator, parent, member of the public, or a student could potentially object to OR request to change in the script.
DON'T change the script without permission! See this Dramatists Guild initiative for more information.
#dontchangethewords
LANGUAGE
There's not a lot of profanity, but during the audition confrontation, the S-, B-, and F-words are all used, in addition to the term "bastard," (meant literally).
PAULINA's mother has children by eight different fathers, AMA describes her as "busy spreading her legs for every man in your village!" 
BEHAVIOR
PAULINA is hardly ever nice, and the other students (eventually) are mean to her in retaliation.
PAULINA uses a bleaching cream on her face – she says her mother gave it to her instead of food because it "would serve me better in life" – despite having been hospitalized for burns from it before. The stage directions indicate that PAULINA's face is "burning or bleeding or something" and "blistering and bleeding" during the confrontation scene.
PAULINA invents a boyfriend and writes fake letters from him. 
ISSUES
Colorism is an issue in School Girls. ELOISE politically calculates the better chances of a girl who, as she puts it, has "a more universal and commercial look" that "fall(s) on the other end of the African skin spectrum." ELOISE wants to find a Miss Ghana candidate with better chances of winning because it will make her look good.
Institutional racism is discussed when HEADMISTRESS FRANCIS and the students talk about the relative lack of success for African competitors in the Miss Global World pageant. Their concerns are borne out by the results in the pageant during the "Epilogue" scene.
Classism also appears; interestingly, two of the students who should have the benefit of wealth are suffering due to their family's stinginess.
THE PLAYWRIGHT
Jocelyn Bioh is a Ghanaian-American playwright, screenwriter, and performer. She has a BA in English and Theatre from Ohio State and an MFA in Playwriting from Columbia. She has appeared on Broadway in The Curious Incident of the Dog in the Night-time.
Bioh's playwriting credits include Nollywood Dreams, Happiness and Joe, and African Americans. Bioh wrote the book for the musical Goddess, which premiered as part of the Powerhouse Theatre's Musical Workshop series in July of 2019. Bioh wrote the libretto for The Ladykiller's Love Story, based on the music of CeeLo Green's album Ladykiller. It premiered at the Apollo Theater in 2017.
Jocelyn Bioh discusses her inspirations for School Girls, or; the African Mean Girls Play in an interview with Felicia Fitzpatrick for Playbill.
OTHER NOTES
UPDATE September 2020: This summer, Jocelyn Bioh joined Ruthie Feinberg on her podcast Why We Theater for the premiere episode "School Girls…and Colorism, Beauty, and Self-Esteem in Women, Girls and Femmes." They talk with Princeton University's Afia Ofori-Mensa and Maryann Jacob Macias of The National Crittendon Foundation.
Here's a review from Metro Weekly of the September 2019 Round House Theatre (D.C. area) production of School Girls.
Here's the Washington Post review of the same production.
The New York City PBS station, Thirteen, has a recording of the MCC Theater production on their website; it is only available to viewers in their broadcast area (which is pretty wide; it includes 14 counties in New York, 12 in New Jersey, and one each in Connecticut and Pennsylvania).
The play is currently (November 7-December 8, 2019) running at the Pittsburgh Public Theater.
The Goodman in Chicago is producing School Girls in March of 2020.
This is the Wikipedia entry on Yayra Eric Nego, one of Bioh's inspirations for School Girls, Or; The African Mean Girls Play.