The Curious Case of the Flying Colors Confusion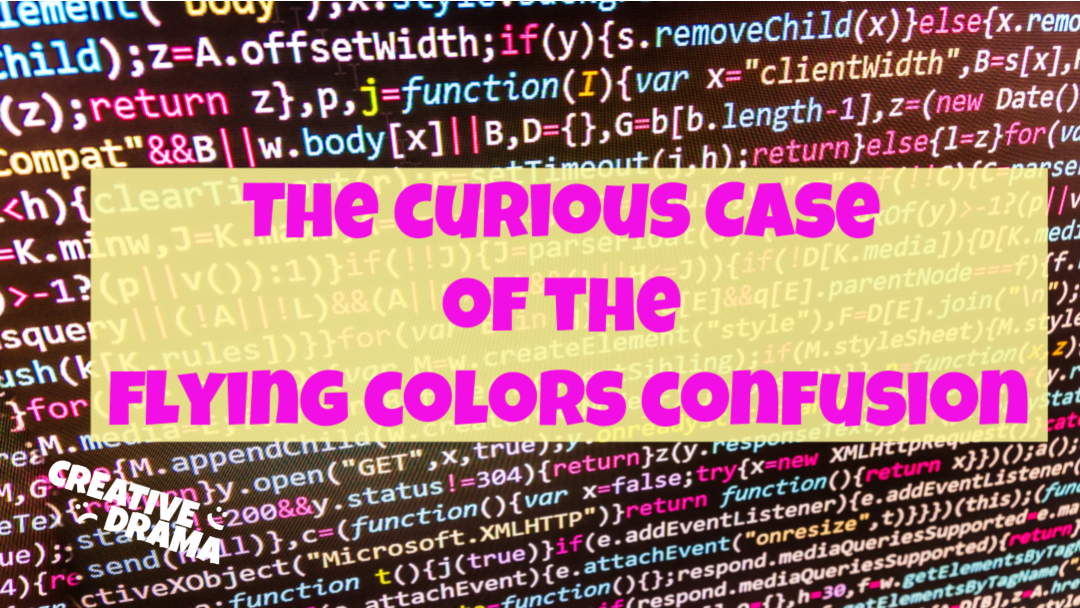 What happens on the Internet when an educational theatre production – Flying Colors by Claire and Monte Montgomery – shares a name with a progressive rock band? 
My husband is a prog rock fan. It's a fairly niche genre with a very dedicated fandom.
I never expected his appreciation for bands like Rush and Marillion to overlap with CreativeDrama.com, but I was in for a surprise last week.
Spotify sent DH an email for a concert by Flying Colors, a band filled with musicians who've played in some well-known progressive rock bands.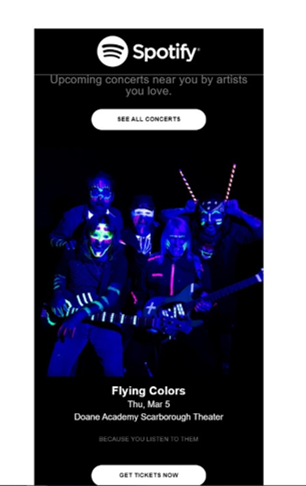 Flying Colors doesn't have very many tour dates, so he seriously considered driving to Burlington, New Jersey to see them. DH clicked on the ad.
The Spotify ad led to the website Songkick, which looked like it had a concert listing for Flying Colors on Thursday, March 5 at Doane Academy's Scarborough Theater. The ticket prices looked VERY REASONABLE…starting at $8! 
(Note: I took screenshots of this image on 2/26/2020, as well as the two that follow, in anticipation of their changing.)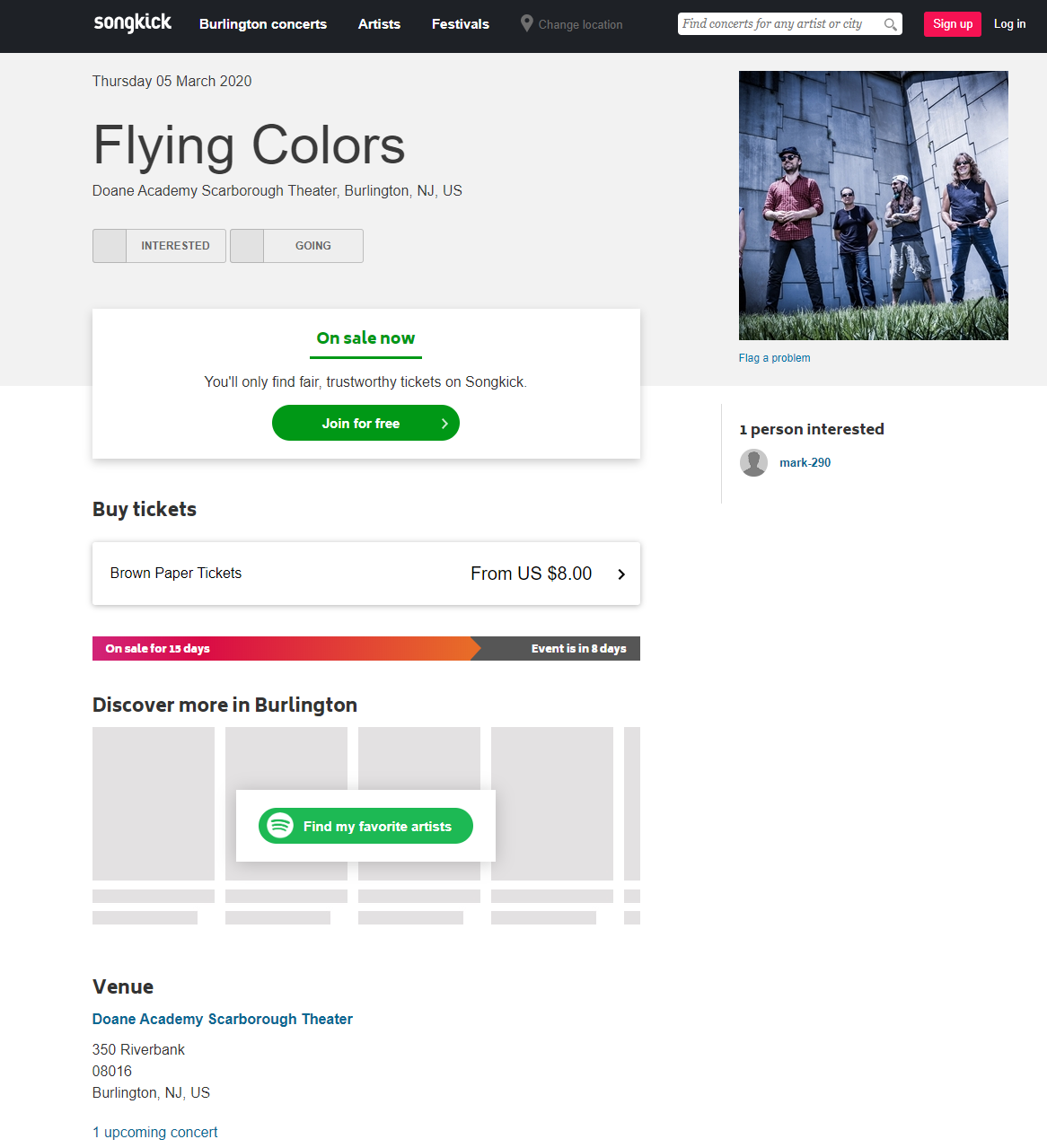 The Songkick page had a link to Brown Paper Tickets, a very popular ticket-selling platform…for educational and community theatres.
The Brown Paper Tickets page reveals the actual event: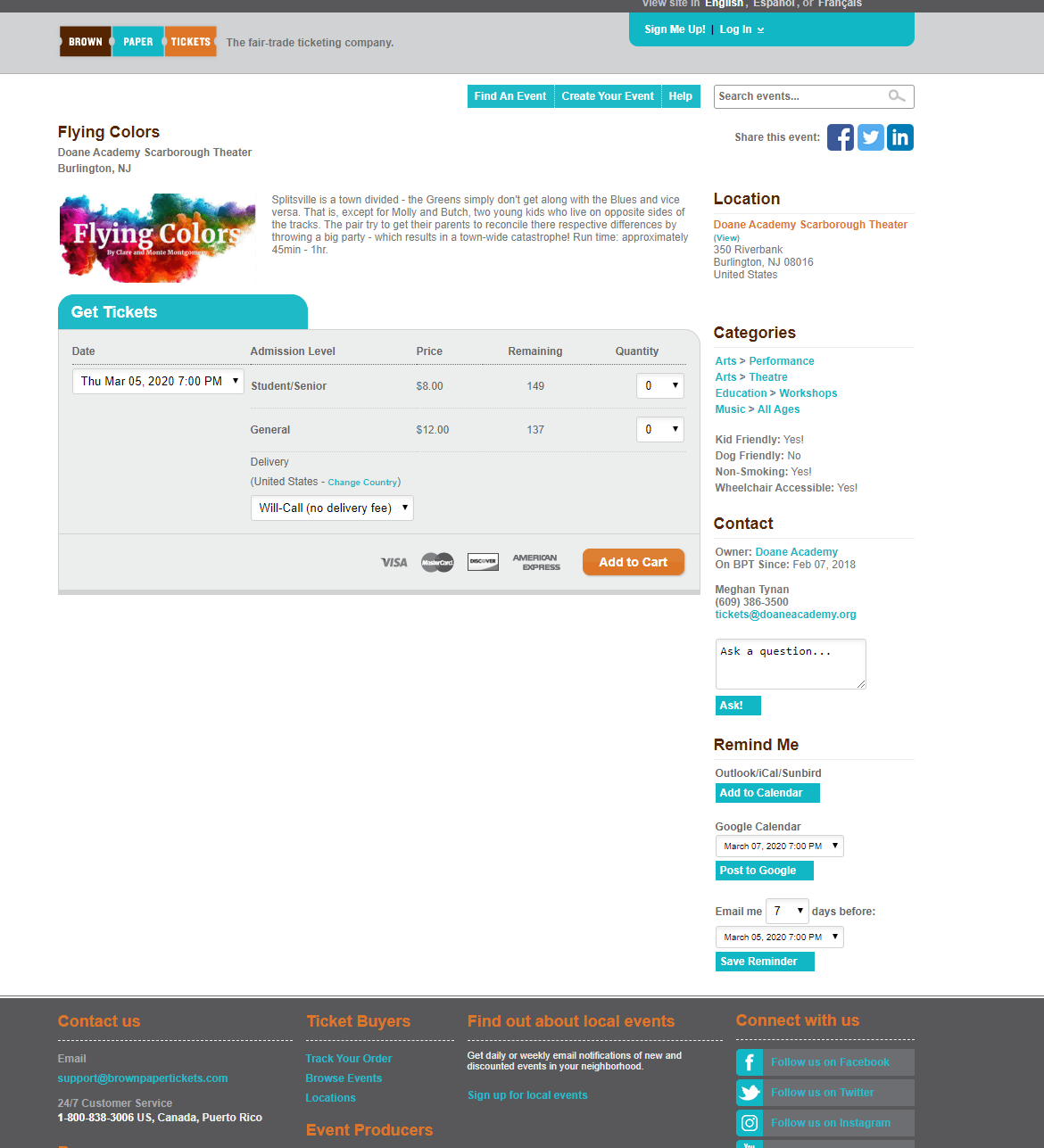 Being a smart guy, DH read the description of the event:
"Splitsville is a town divided – the Greens simply don't get along with the Blues and vice versa. Tha is except for Molly and Butch, two young kids who live on oppostie sides of the tracks. The pair try to get their parents to reconcile there (sic) respective differences by throwing a big party -which results in a town-wide catastrophe!" 
He realized a show titled Flying Colors was being presented at a K-12 school, Doane Academy.
It looks like an algorithm flagged:
Flying Colors, the 1997 musical by Monte and Claire Montgomery
As
Flying Colors, the 21st Century supergroup.
Even Google thought there was a Flying Colors concert happening, and filled in photos of the band: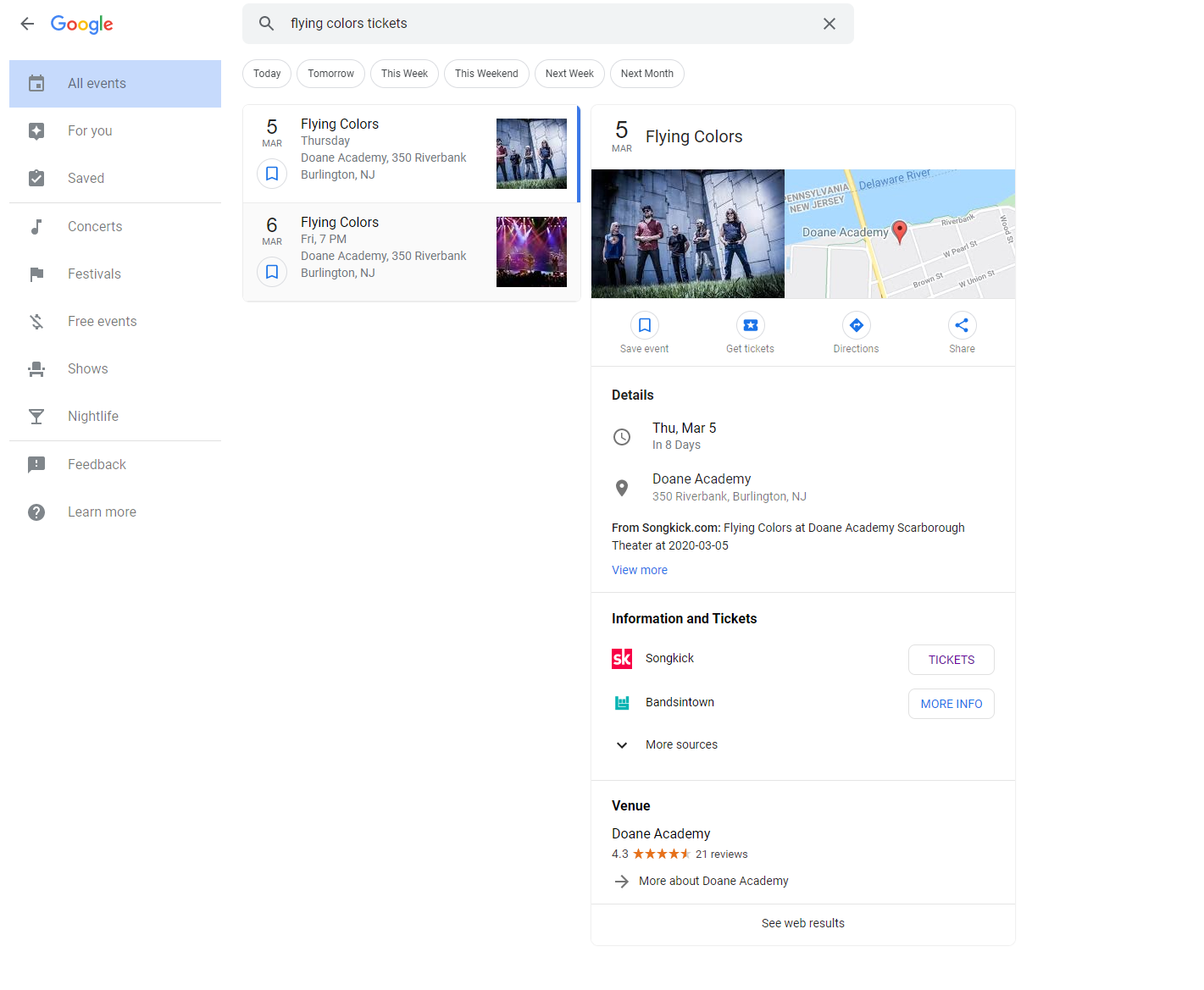 I had visions of Flying Colors fans not reading the fine print and mistakenly snagging tickets for Doane Academy's production. At my suggestion, DH sent a "heads up" email to Meghan Tynan, Doane Academy's teacher-director.
I corresponded with Meghan via email about the algorithmic mistake, and what happened after she learned of it.
My husband's email was the first indication Doane Academy had of the mix-up. Meghan – Ms. T. to her students – managed to keep a sense of humor about it. "Could you imagine opening night: 100s of lost, disgruntled rock fans sent to a school that looks like Hogwarts to watch a high school musical?" I can confirm Doan Academy's resemblance to Hogwarts – see here and here – their 1847 chapel has the distinction of being the first Neo-Gothic church structure in the United States.
Meghan sent an email to all of the Brown Paper Tickets buyers "explaining this confusion." As of last week, there had been only one person who had mistakenly bought concert tickets and wanted a refund. In addition, she contacted "Spotify, Brown Paper Tickets, and Songkick to sort out how this happened."
As of this writing – March 4, 2020 – Spotify is not showing a concert by Flying Colors (the band), and Songkick has removed the concert notice, but Google's algorithm is still showing a concert by Flying Colors, with their eponymous first album as the image connected to the event. 
Theatre Education at Doane Academy
Since our email was also an opportunity to ask Meghan about her production choice and theatre education at Doane Academy, I took it, because I'm ALWAYS interested in hearing from teacher-directors about their experiences.
Flying Colors is not a well-known musical; Doane Academy's production is the only one on Concord Theatricals' "Now Playing" map, which typically has shows opening in the next six months.
I wanted to know how Meghan discovered Flying Colors as a production possibility, and why she chose it. She provided me with a wonderfully detailed answer which I've reproduced in full:
"Flying Colors is a TYA* show that my community theater camp did when I was in high school. To be honest – I have no idea how they learned of its existence, because without having done it in high school, I wouldn't have known to search for it! I choose it as this year's production for a number of reasons. Firstly, Doane Academy is actively trying to address issues of diversity and inclusion amongst the staff, the students, the curriculum, and the relationships between all three. Because I am new to Doane this year, I wanted the production to honor the efforts being made by the school. Flying Colors addresses racism, stereotyping, and prejudice, but in an easily accessible way for people of all ages, making it a great choice for a K-12 school. Secondly, logistics played a role: the school is very small but also extremely well-rounded. Students who are involved in theater are also involved in basketball, Mock Trial Crew, and various other activities. I needed a show with a small cast, roles for students who don't like to sing or dance, and structured so that casting and rehearsals could be designed to accommodate many different schedules and after hours of reading other scripts, Flying Colors was the only one that checked off all of these boxes. It is also a one act show – only 45min – and therefore easier to produce successfully in the time we had!"
Since Doane Academy has students from preschool through 12th grade, I asked Meghan if there were joint Lower, Middle, and Upper school productions. education and productions:
"Flying Colors is an Upper School only production, with Middle School able to join the Stage Crew, but Doane has other opportunities for all ages, all year round! There are drama classes offered throughout the school year, and a Lower School Play that is produced in the spring. I am looking to expand the theater program and create more opportunities for the school in the years to come."
Doane Academy has a fascinating tradition – they perform a "Christmas Mystery" play ("mystery" in the medieval theatre sense) that students at the school wrote in the mid-19th century. You can read more about it here.
This is Meghan's first year at Doane, so she experienced The Christmas Mystery play as well as another annual Doane event:
"We also host a haunted house every Halloween called Doane's Dungeon every year, where students take over the campus and enact scenes from haunted literature! We have scenes from Frankenstein, The Crucible, The Tell-Tale Heart, Carrie, Dracula and more. The best part is that it is 100% student produced. As the Theater Director, I can tell you I served much more as a Stage Manager for Doane's Dungeon than anything else! Doane is a very unique place – they truly  prioritize student autonomy and creativity!"
A HUGE "thank you" to Meghan Tynan for her answers and insight!
Doane Academy's Spartan Studio Actors perform Flying Colors – THE MUSICAL – on
Thursday, March 5th at 7:00PM
Friday, March 6th at 7:00PM
Saturday, March 7th at 2:00 and 7:00PM
Doane Academy has some production photos for Flying Colors on their Facebook page.