INTRODUCTION
Drama Menu: Theatre Games in Three Courses by Glyn Trefor-Jones is an extensive collection of theatre games arranged in easy-to-understand groupings for beginning and experienced teacher-directors.
Note: Since Drama Menu is a British edition, I have not changed the spelling of some words in the book to American standards.
ORGANIZATION
 The organization of Drama Menu is its best selling point.
Most delightfully, Drama Menu comes in a SPIRAL-BOUND edition, which already charmed me before I even opened the cover. It's something anyone publishing a book of theatre games should consider doing. A spiral binding means that you can lay the book flat on a desk, table or stage edge and it will stay open to the right page. You can hold it in one hand easily, or even pull the front and back covers to each other so you're just looking at one page. The annoyance of losing your page, or trying to keep a large volume open with your thumb as you gesture to help teach a game has disappeared!
Trefor-Jones organized Drama Menu into four "courses" –
Appetisers
Starters
Main Courses
Desserts
In the Introduction, Trefor-Jones explains his Drama Menu system. The first three courses progress in length of time it takes to play each game, so that "Appetisers" are 5-10 minutes each, "Starters" are 15-20 minutes each, and "Main Courses" will take twenty to thirty minutes.
The fourth course, "Desserts," has only nine games; as Trefor-Jones explains, "I prefer participants to leave the session thinking about the lessons learnt and a "Dessert" can often prove counterproductive to that aim." (page 167)
Trefor-Jones recommends the length of time a teacher-director should allot for each "course," and how many games per course. In addition, he provides a section called "Delivering the Perfect Menu" that include selection, supervision, and execution tips.
The book also includes three Appedices. First, the "Suggested Combinations" of games has 6 "Menus", each with 2-3 Appetisers, a Starter, a Main Course, and a Dessert. Second, the "Exercises by Category" sorts dozens of options into lists of "Energy," "Focus," "Character," "Teamwork," "Truth," and "Listening." Finally, there's a complete "Index of Games" arranged alphabetically by title.
EXTRAS!
Even better, here's a companion website with:
A "Menu of the Month"
Browsable Menus from other teacher-directors
AND there's a RESOURCE PACK
The Resource Pack is a 110-page PDF with lists, handouts, and cards for printing, cutting out, and using during the various games. It will save you a lot of time and typing! I'll let you know if a game I'm discussing has a printable in the PDF in this review.
Plus, if you're willing to sign up for Drama Menu's newsletter, you'll get a FREE SOUND EFFECTS pack!
But WAIT – there's more…
Forgive me if this sounds like a mid-1980s Ron Popeil commercial; the difference here is that all these extras are actually useful!
APPETISERS
Trefor-Jones divides these 50 warm-up games into "circle" and "non-circle" games. I was confused at first by the explanation of "Spaghetti" (#2); thinking that the participants would have to be "Angry Spaghetti" rather than saying "Spaghetti" ANGRILY. After reading through the directions a second time, I "got it." But there is a YouTube video for anyone who's still not clear on how to play the game.
"The Gallery" (#30) reminded me of a tableau exercise that Dan Cheifetz did with his students in Theater in My Head. With a game like "The Gallery," participants of varying ages can create works of art that meet their own levels of understanding and comfort. Similarly, "10 Seconds to Make…" (#28) provides flexibility in group age and experience.  
"The Boxed Coin" (#32) would be fun with a group of over 10 participants; I think fewer than that would make the game too easy. "Yes…Let's!" (#34) is clearly an exercise in learning the improv convention of "Say Yes!" – though Trefor-Jones doesn't mention it – that gets everyone used to acting rather than resisting.    The Resource Pack comes to the rescue for "Sonnet on 1 Breath" (#47); providing a selection of 9 from Shakespeare's  154.  
PART II: STARTERS
The "Starters" section has 50 games/exercises in it; they are generally more complex than the "Appetisers."I played "School Excuses" (#57) with my son's Odyssey of the Mind team a few weeks ago, and they LOVED it. The team is made up of third, fourth, and fifth graders, and they caught on very quickly and had each other laughing:
STUDENT 1: Why did you PUT A KANGAROO IN THE TEACHER'S LOUNGE?
STUDENT 2: Well, I heard that Mr. Smith wanted to take up kickboxing!
It's good that "The Creature" (#68) is on Drama Menu's YouTube channel; what I imagined when I read the explanation wasn't at all what happened during the video. It looks like the students in the video were already familiar with the game, so they needed minimal coaching.
The doorway exercise "Outside In" (#69) is good for solo work in "showing, not telling" (though I'd skip the suggested "You are returning from a drunken night out" scenario unless you're working with adults).
The Resource Pack makes several of the games in "Starters" easier to execute; "The News" (#70) has great headline suggestions; and the scenario combinations provided in "SFX Mimes" (#80) will provide comedic inspiration.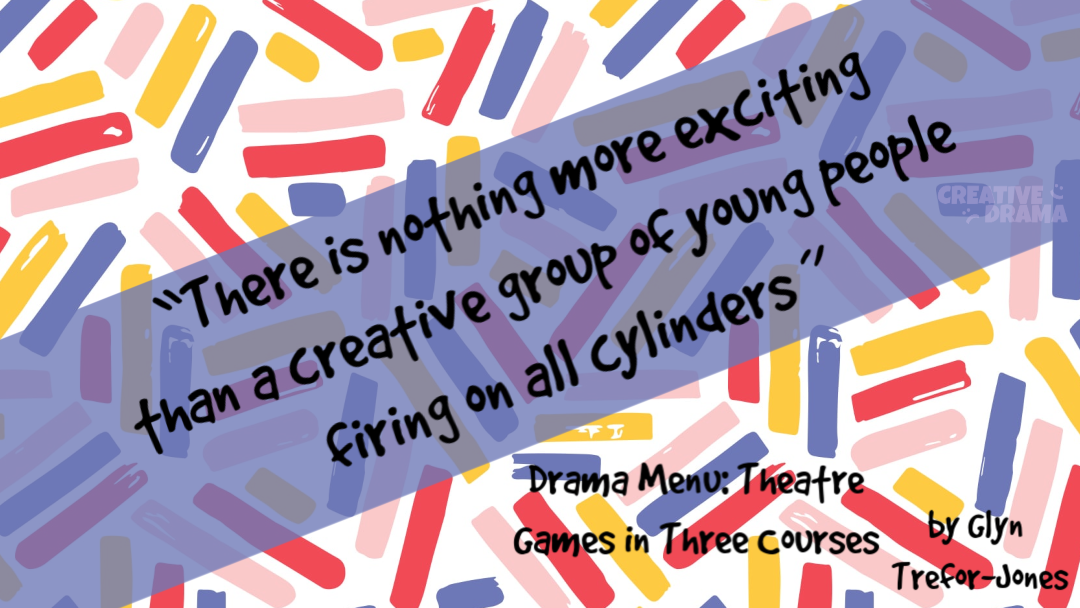 MAIN COURSES
Trefor-Jones has assembled a good combination of 50 exercises – mostly improvisation- for both experienced and beginning performers in the "Main Courses" section.
For newer performers, "The Hidden Cave" (#121) looks like a great way to help them learn to use the length of their playing space. Additionally,  "Structured Stories" (#133) provides an outline of an improv for less-experienced participants .
"The Hidden Photograph" (#133) takes the idea of using a photograph as inspiration for an improvisation and skews it so that the photo itself becomes part of the scene. Likewise, the titles in "Scene Select" (#150) give the chance for out-of-the-box thinkers to develop an original scenario based on just a few words.
Many of the games give participants time to plan and rehearse. In a class period or workshop session, this is an effective change-of-pace for students, going from the whole group paying attention to a few performers at once to everyone participating simultaneously. For rehearsals, teacher-directors may need to select "Appetisers" and "Starters" exclusively because of time constraints.  
DESSERTS
The "Desserts" section has 8 games, all of which are likely familiar if you've played or watched Comedy Sports/Whose Line Is It Anyway? – type improv activities before. As I mentioned earlier, collecting them all in one spot gives early-career teacher-directors a place to start. "Park Bench" (#155) is one I've explained here on CreativeDrama.com because I hadn't seen it many other places previously.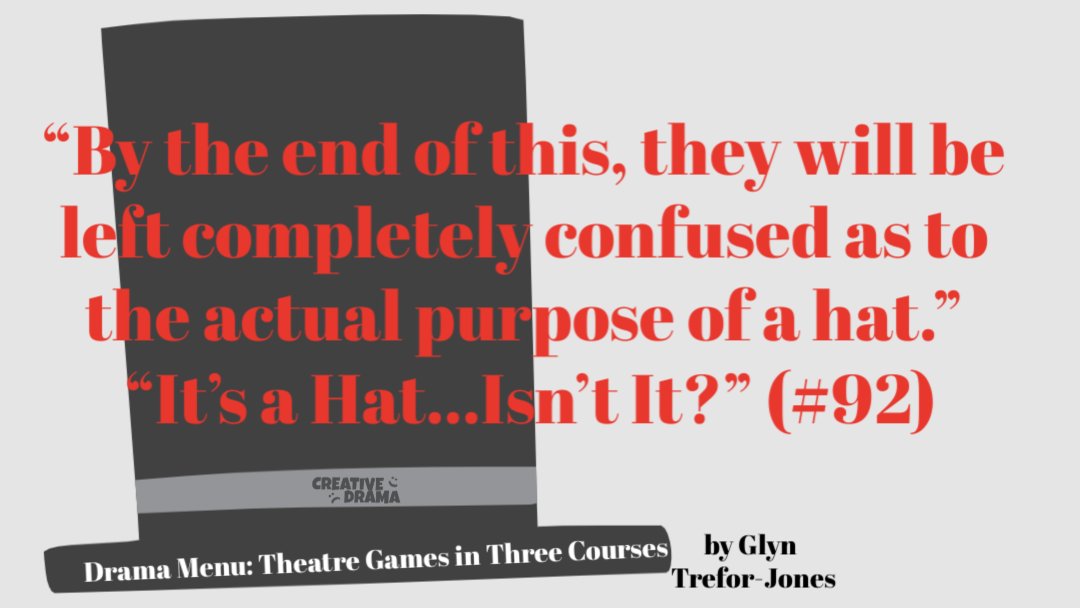 NOTES
Trefor-Jones changed the name of some well-known theatre games for Drama Menu. For example, "Party Quirks" becomes "The Party Game" (#70), and "Remote Control" turns into "Channel Hopping."   
I found myself wanting a little more information about the games, like age ranges for participants, group sizes, and space needs. The text is a little light in variations and adaptations; how might a group play "The Boxed Coin" (#32) if some of the participants are hard-of-hearing? However, there is a certain freedom generated by leaving these elements up to the judgement of the teacher-director, which Trefor-Jones wants "use your judgement to pick exercises that suit yours (group)." (xi) 
American readers may need to look up some words and concepts – Britain's OK Magazine becomes "Oh Kay Magazine" (#59) in Drama Menu, but I'm not sure how similar America's National Enquirer is to that tabloid. "My Holiday from Hell" (#82) is about awful vacations, not terrible Thanksgiving dinners, although the exercise could be easily adapted to accomodate them!  
Some games like "Splat" (#3), "Wink Murder" (#10), and "Power of a Gun" (112) will need adapting to play in educational situations. Guns and murder are potential trouble points in school and extracurricular programs. I'd recommend changing the "splat gun" to a pointer (thumbs folded down so there's no "hammer").  
Trefor-Jones likes games that give actors a chance to practice performance "attacks" – vocally, physically, and emotionally – providing clear communication to audiences. "Chain Argument" (#51), "Attention Tales" (#91), "Acting Attack" (#101), and "Build to Blackout" (#146) are all examples of these.
If you're directing a murder mystery, Drama Menu has plenty of games that will help your cast get in the mood, including:
"Film Trailers" (#54)
"Gruesome Conclusion" (#98)
"Acting Attack" (#101)
"Power of a Gun" (#112)
"Caught in the Act" (#117)
CONCLUSION
Teacher-directors who will find Drama Menu most useful are likely ones at the beginning of their careers. If you've found yourself in charge of a theatre class and you don't know how to play "Freeze" (#56) or get a group to create "Machines" (#29), Drama Menu includes these game classics. While many of the games may be familiar to more experienced teacher-directors, Drama Menu arranges them in sections that make it easy to select a group of games for a class, rehearsal, or workshop. Camp counselors and after school activity directors will also find many games that are fun and cooperative challenges for their groups. 
ABOUT THE AUTHOR
Glyn Trefor-Jones is the founder (2005) and principal of the Academy of Performing Arts in Henley in Arden in Warwickshire, England. The Academy of Performing Arts is an extracurricular theatre training program for students ages 5-17.
Trefor-Jones has a degree in Modern History and Politics from Cardiff University.
BOOK DETAILS
TITLE: Drama Menu: Theatre Games in Three Courses
AUTHOR: Glyn Trefor-Jones
PUBLICATION DATE: 2015
PUBLISHER: Nick Hern Books
PAGES: 200