Written by a master of amateur scripts, That's the Spirit has great roles for a wide variety of actors, with plenty of chances for your students to play against type. There's a Hollywood heartthrob, an experienced investigator, an overly-eager and green detective, a mysterious hermit, eccentric psychics, and a sassy maid. The play requires a single set, minimal costume changes, and basic light and sound cues – but all of these can be enhanced to the level of your tech crews. 
SUMMARY
TITLE: That's the Spirit
AUTHOR: Tim Kelly
LICENSING ENTITY:  Concord Theatricals
GENRE: Murder Mystery Spoof/Farce
PLOT: After the murder of her Aunt Jenny, Irene inherits the home of a famous magician. A cast of eccentric characters tries to solve the murder, locate The Great Marvel's fabled Book of Illusions, and maybe commit a few crimes themselves.
SETTING: "Contemporary," but the play was written in 1993 and requires a rotary telephone as a plot device. The house has a feeling of "Old Hollywood." 
CHARACTER BREAKDOWN: 8F, 5M
One female role is tiny but pivotal and the actor can be doubled to another later role. Kelly indicates that the gender of DETECTIVE PRINDLE can be switched to male if casting needs dictate. 

All roles are adults and can be any ethnicity; JUAN's name implies Latinx heritage.  
COSTUMES: Contemporary/1990s; opportunities to costume actors according to their eccentric characters; a wildlife officer uniform 
SET REQUIREMENTS: Interior set with French doors leading "outside." Furnishings reflect the aesthetic of the previous owner, a magician/illusionist/spiritualist  Script calls for a staircase, a fireplace.  
PROPS:
There are some fun prop creation opportunities: A

TV Guide

cover for WAYNE's show,

Bachelor Father

, a large portrait of The Great Marvel that "glows", magic memorabilia, psychic and supernatural accoutrement.

The bowl of fake fruit has a running joke – a few actors bite into a "wax" apple and spit out a chunk.

Prop & set dressing techies might enjoy sneaking references to other supernatural IPs (even if they're anachronistic!) into the Great Marvel's collections.

Prop artists can also construct a cover (and maybe pages!) for The Great Marvel's Book of Illusions.     
STAGING CHALLENGES:
There's an opportunity for a puppeteer/ventriloquist

The murder, seances and the concurrent stage business happen in near-darkness, requiring a finely-tuned, rehearsed-to-the-second cast. 

Kelly's performance note states that his play "should be staged in an exaggerated style" but the cast "should give the impression they're performing in a

serious

thriller." There will be plenty of times that the audience is roaring with laughter while the actors have to keep it together and "hold" until the next line can be heard. 
BOTTOM LINE:
Tim Kelly mixes the ingredients of a mysterious death, an inheritance with strings, a psychic friends network, and a Hollywood Hills setting into a delicious, spooky, kooky lampoon of the murder mystery genre. That's the Spirit provides plenty of fun roles for your actors and interesting challenges for your production staff and crew. 
That's the Spirit would make a solid and fun production for most high school theatre programs. The cast is a manageable size, especially for those newer to directing. Teacher-directors can cast a few beginning actors as well as experienced performers.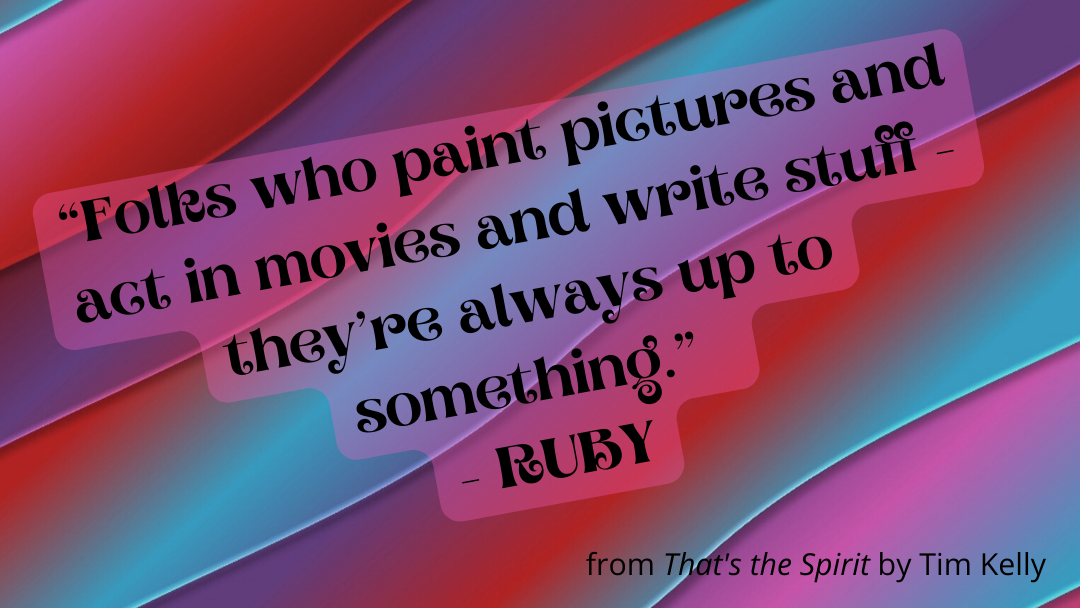 ACT ONE
In the former home of reknowned spiritualist The Great Marvel, a limping figure in a clown mask struggles with and kills JENNY.  
After the murder of her AUNT JENNY, IRENE inherits the historic estate, but she is not allowed to sell the home. While she stays at the house deciding what to do, there's a lot to keep her busy: 
The "neighborly" attentions of WAYNE, a TV star who is a fan of himself 

The grouchiness of long-time housekeeper RUBY

The arrival of CLAIRE VOYANT, friend of AUNT JENNY and fellow spiritualist

The investigation conducted by Detectives CHARLOTTE PRINDLE and BUD FRAZER 
CHARLOTTE and BUD have been on the case since AUNT JENNY's murder, but they're not any closer to discovering the culprit.  BUD's detective skills falter because he's a fanboy of both The Great Marvel and WAYNE. They've been looking to question JUAN THE HERMIT, but are having trouble locating him (because he's a HERMIT). 
CLAIRE insists that she'll find the murderer as well as The Great Marvel's Book of Illusions – with some help from her friends in the Psychic Revelations Society and "the other side." But CHARLOTTE's suspicious of her because of CLAIRE's past psychic fails.
Other members of the Psychic Revelations Society arrive: 
ANN BOLEYN, who appears to be living as ANN BOLEYN, Henry VIII's second wife. 

BELLA DONNA, with her ventriloquist's dummy, Chester     
Clues and red herrings abound: 
SCOTTY, a local wildlife officer, appears with coyote traps and RUBY seems overly concerned about it.

Several characters limp like the masked murderer did

Repeated mentions that ownership of the house will transfer to the Psychic Revelations Society upon IRENE's death

JUAN THE HERMIT and RUBY seem to know each other.    
CLAIRE, certain that The Great Marvel will use a "spirit phone" to call and reveal the murderer as well as the location of his Book of Illusions, holds a seance to encourage contact. RUBY, WAYNE, and IRENE join the three psychics in an attempt to reach The Great Marvel. The seance ends with the sudden intrusion of a mysterious figure.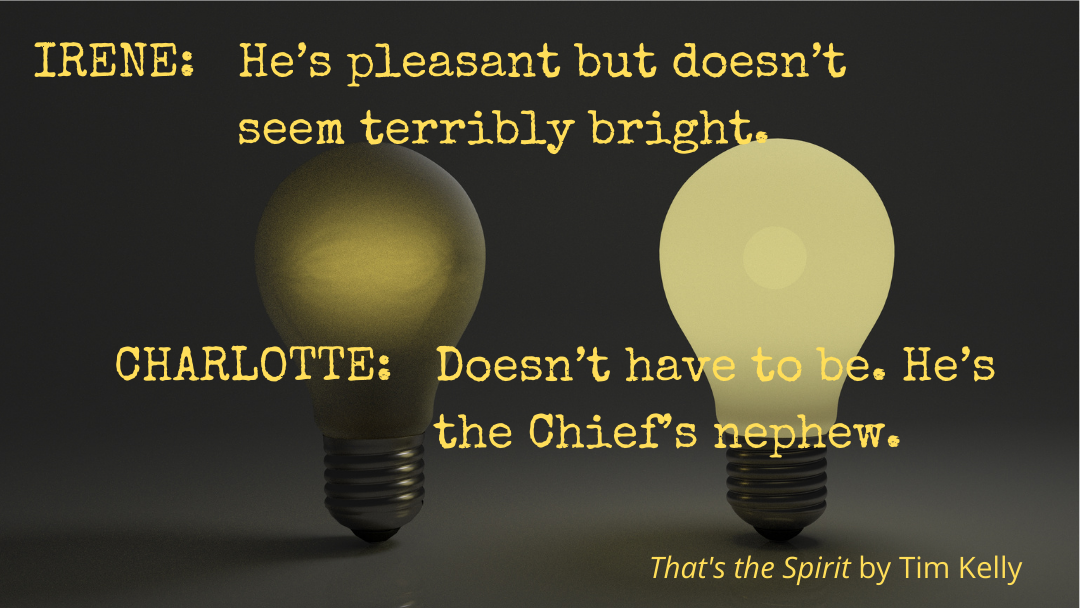 ACT TWO
After an unsuccessful search, BUD and CHARLOTTE fail to produce a human responsible for the intrusion. CLAIRE, BELLA, and ANN insist that the figure was spiritual and not corporeal. But BUD finds a scrap of clothing that CHARLOTTE hypothesizes belongs to JUAN. 
A fourth psychic,  ERNST SLATER (the "Man with the X-Ray Eyes"), arrives late. Then SCOTTY hides in a lampshade, eavesdropping on conversations that are unrelated to coyote-catching. Finally, VICTORIA GREENSTREET, antiquarian bookseller, shows up, laser-focused on The Great Marvel's Book of Illusions. 
Who's the murderer? RUBY? CLAIRE? SCOTTY? JUAN THE HERMIT? WAYNE? One of the members of the Psychic Revelations Society? 
With a second seance, will all be revealed? Or will the Sherlockian deductions of the detectives solve the crime?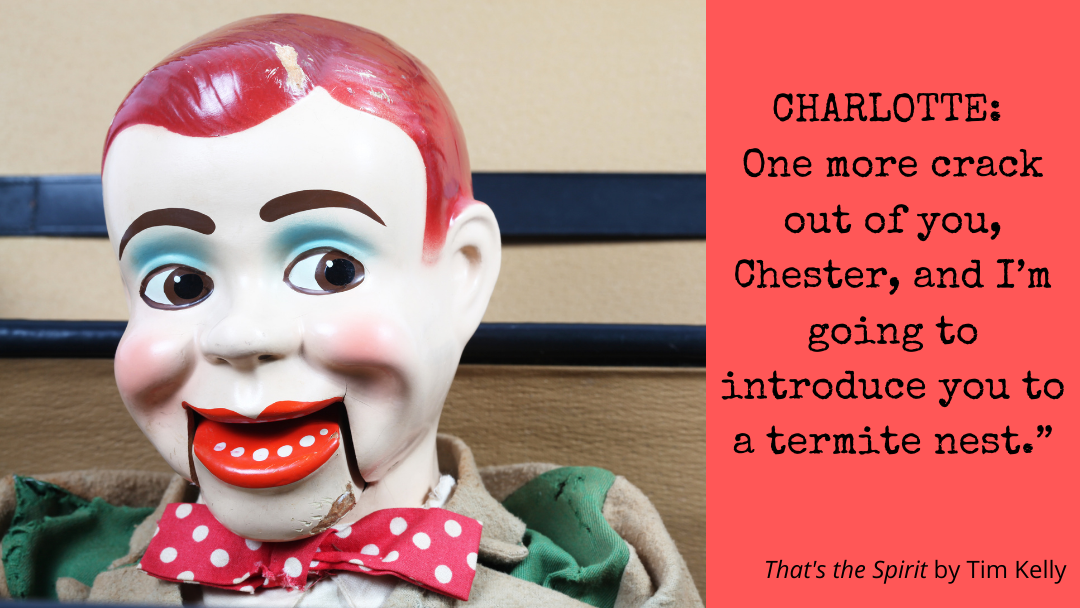 CONSIDERATIONS
I've assembled a list of "Considerations" to help teacher-directors decide if they'd like to get a hold of a perusal copy, or purchase one. These are aspects of the play that, in an ideal universe, wouldn't cause a problem for a teacher-director. But if the powers that have to approve your production will have difficulty with any of the following, or you have members of the school community who will, be prepared to defend your choice.
DON'T change the script without permission! See this Dramatists Guild initiative for more information.
#dontchangethewords
The following list is what I've noticed in the play that, based on my experience and knowledge of past challenges to educational theatre pieces, may cause an objection. If these aspects leave you undaunted, you should still read the script and decide, based on what you know about your students and your community, if it will work for you.
The play opens with a murder; two guns are pulled (but not fired).

There is an attempted strangulation.

There's talk of ghosts and the supernatural, most characters take part in a seance.

Several characters profess paranormal beliefs: psychic powers, reincarnation.

Characters refer to members of the Psychic Revelations Society with pejorative terms and gestures for mental illness.  

SCOTTY talks about setting coyote traps – the spring-loaded kind – and one injures a character (offstage).